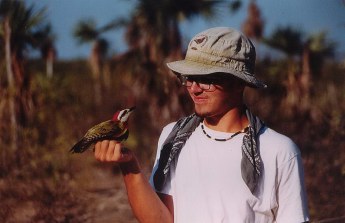 Photo by: Amy Hammond
Cuban Green Woodpecker, GTMO Bay Cuba
Tyler Hicks began his interest in the natural world at a very young age. He became most interested in birding at about 11 years old and has never relented since. He has traveled the world in search of birds and other wildlife and has participated in several banding operations as well.
When he first left home at the age of 17 he traveled to High Island, Texas in April to experience the spectacular spring migration that occurs there every year. From there he went to Utah where he banded at Fish Springs NWR for the month of May. Later he traveled the British Columbia coast by ferry, bus, and thumb. In British Columbia he participated in a Marbled Murrelet research project out of Tofino on Vancouver Island. They were attempting to capture and radio tag the murrelets in order to locate their nest sites. They never caught one but came very close to.
After leaving British Columbia he then went to Quebec to work at the Observatoire d'oiseaux de Tadoussac (Bird Observatory of Tadoussac). There he banded passerines and small raptors(including Boreal and Saw-whet Owls). Tyler believes this observatory to be the best kept secret among the bird observatories scattered about North America. At Tadoussac they banded over 100 Boreal Owls in 2000 and routinely band more Boreal Chickadees (in some years over 1000), Black-backed and Three-toed Woodpeckers than any other banding station. This gem of the bird observatory system is set on large sand dunes overlooking the St. Lawrence sea way. The observatory and the area surrounding it is an excellent place to see migrating passerines, hawks, seabirds, and whales as well.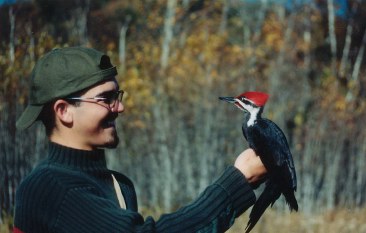 Photo by: Johanne Berthiaume
Pileated Woodpecker, Tadoussac Quebec
After Quebec Tyler then traveled to the Naval Base at Guantanamo Bay, Cuba. There he worked for The Institute of Bird Populations based out of Pt. Reyes, California. There he banded birds from February of 2001 to July of 2001. In December of 2001 to February 2002 he worked at Laguna del Lagarto Lodge on the Nicaruaguan border of Costa Rica. There he worked as a tour/bird guide and observed and photographed the rare and beautiful fauna and flora of Costa Rica.
Tyler spent the summer of 2002 attending Cowley County Community College in Mulvane, Kansas. That fall he traveled to Duluth, MN where he was the head owl bander at the Hawk Ridge Nature Reserve. There he banded over 700 Saw-whets Owls as well as numerous other hawk and owl species. In 2003 he will be working in southern Alabama with neotropical migrant diseases and nest searching.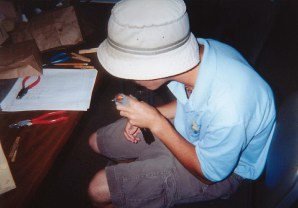 Banding Western Kingbird
Publications
Hicks, Tyler. 1997. NOTES: On the Effects of Tape Playing and Close Observation of Birds. The Horned Lark. Vol. 24, No.3:6
Hicks, Tyler. 1997. Dirt Field Birding. A Bird's Eye View. Vol. 5, No.5:3
Hicks, Tyler. 2001. Career Moves. A Bird's Eye View. Vol. 9, No. 6:5-6